The directors of Thor Energy Plc (AIM, ASX: THR, OTCQB: THORF) are pleased to announce a collaboration with Fleet Space Technologies to undertake Ambient Noise Tomography ("ANT") surveys to advance Thor's understanding of the Alford East Copper-REE Project, South Australia.
HIGHLIGHTS
Thor and Fleet Space Technologies to collaborate on the Alford East Project to accelerate mineral exploration, incorporating Fleet's EXOSPHERE BY FLEET® technology.
EXOSPHERE BY FLEET® scans the ground using the advanced ANT seismic tomography technique, where highly transportable 'Geode' devices listen to faint background vibrations from natural and man-made sources. The data is then processed rapidly and transmitted through Fleets constellation of low earth orbit satellites, recently launched by SpaceX. This technology will be used in surveys over the Alford East Project to successfully delineate the low velocity, weathered 'troughs' that host the oxide copper-REE mineralisation with the Alford Copper Belt.
Fleet will integrate ANT results with Thor's 3D geological model by using Artificial Intelligence ("AI") and Machine Learning ("ML") to generate a new model for drill targeting higher-grade oxide copper-gold mineralisation.
The results from the surveys will play a pivotal role in shaping decisions and refining the targeting strategy for upcoming drilling campaigns. These future drilling efforts will be concentrated on regions characterised by low seismic velocity, known for hosting oxidised copper-gold mineralisation conducive to the possibility of In-Situ Recovery ("ISR").
An investment fund associated with Fleet Space will make a direct equity investment of $250,000 in Thor via a share subscription at $0.04 per Share. The Shares are expected to be issued by 8 September 2023. The Shares will be subject to voluntary escrow for 12 months.
WATCH: Learn more about the EXOSHERE BY FLEET® technology
WATCH: Managing Director Nicole Galloway Warland talks to Proactive about the new partnership
Thor Mining has an interest in several projects in the copper belt near Alford on the Yorke Peninsula in South Australia and further to the east at Kapunda.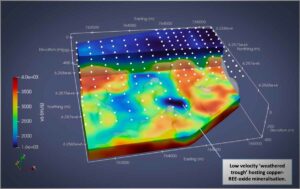 The acquisition phase of the low-impact, ANT surveys are now complete and clearly delineate low-velocity, weathered 'troughs' that host the oxide copper-gold- REE mineralisation within the Alford Copper Belt
Read More »
LEARN MORE ABOUT ISR (In-Situ Recovery)