The directors of Thor Energy Plc ("Thor" or the "Company") (AIM, ASX: THR, OTCQB: THORF) are pleased to announce new Rare Earth Element (REE) drill results from a review of the previously announced 2021 Copper and Gold drilling at the Alford East Project, South Australia (SA).

HIGHLIGHTS
Significant REE drill intercepts (>500ppm TREO1) include: 
21AED005: 
• 36.7m @ 1568ppm (0.16%) TREO & 1.2% Cu from 6.3m,
 o including 11.8m @ 2095 ppm (0.21%) TREO and 1.2% Cu from 10m, and
• 11m @ 2088ppm (0.21%) TREO and 0.8% Cu from 47m,
 o including 2m @ 5042ppm (0.5%) TREO from 47m
21AED002: 
• 11.6m @ 1699ppm (0.17% ) TREO and 0.26% Cu from 30.4m
 o including 6.1m @ 2262ppm (0.22%) TREO from 34.0m
21AED001: 
• 16.8m @ 1721ppm (0.17%) TREO and 0.5% Cu from 91.4m

21AED006:
• 29m @ 959ppm (0.1%) TREO from 20m, and
• 6.1m @ 1171ppm (0.12%) TREO and 0.1% Cu from 81m,
 o including 1.7m @ 3139ppm (0.31%) TRE0 from 84.3m


21AED004: 
• 13.1m @ 1366ppm (0.14%) TREO and 0.5% Cu from 42.8m,
 o including 1.4m @ 2274ppm (0.23%) TREO from 35m
21AED007: 
•15m @ 961ppm (0.1%) and 0.12% Cu from 13m
 o including 1.0m @ 2213ppm (0.22%) TREO from 19m
• A REE review has revealed that eight out of nine of the 2021 diamond drill holes intersected wide zones of highly enriched REE's in kaolin altered, copper rich oxide zones of IOCG style mineralisation. 
• Mineralisation is open over a ~5km trend as none of the remaining historical drilling at Alford East, to the best of the companies knowledge, has ever been assayed for REE's. 
WATCH: Managing Director Nicole Galloway Warland talk to Thomas Warner from Proactive about the latest news, including the potential high-grade rare earth (REE) discovery at Alford East Copper Gold Project which she describes as a "potential gamechanger."
Thor Mining has an interest in several projects in the copper belt near Alford on the Yorke Peninsula in South Australia and further to the east at Kapunda.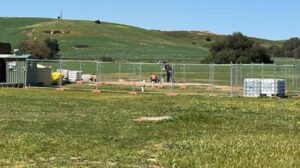 The South Australian Government has approved the first stage of in-ground work on the Kapunda copper In-Situ Recovery ("ISR") project, South Australia.
Read More »
LEARN MORE ABOUT ISR (In-Situ Recovery)