The directors of Thor Energy PLC ("Thor") ("The Company") (AIM, ASX: THR, OTCQB: THORF) are very pleased to advise that Thor has fulfilled its Stage 2 expenditure obligations at the Alford East Copper-Gold-REE Project in South Australia. Completing Stage 2 of the earn-in, entitles Thor to increase its interest from 51% to 80% in the copper oxide mineral rights from Spencer Metals Pty Ltd ("Spencer").
 • Thor will acquire a further 29% interest in the Alford East Copper Oxide Project, covering portions of EL6255 and EL6529, taking Thor's interest to 80% (ASX: 23 November 2020). 
• Spencer will receive consideration of AUD$250,000 in the form of 9,259,260 fully paid Thor shares to be issued today at AUD$0.027 per share, being the ASX volume weighted average price ("VWAP") for the previous five trading days, together with 18,518,520 unlisted options, exercisable at AUD$0.30 within the next 5 years (Stage 2 expenditure). The shares will be allotted as CHESS Depository Interests ("CDIs"), with admission on the ASX and AIM expected on 10 November 2023. The issue of these securities was approved by shareholders at a General Meeting held on 23 August 2023. 
• Thor will shortly be receiving the ANT geophysical data and interpretation from Fleet Space Technologies, covering the northern part of the Alford East project. 
WATCH: Learn more about the ANT survey at the Alford East Project with this Exploration Update
Thor Mining has an interest in several projects in the copper belt near Alford on the Yorke Peninsula in South Australia and further to the east at Kapunda.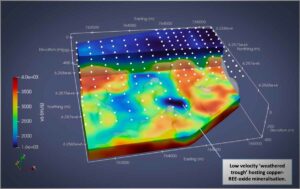 The acquisition phase of the low-impact, ANT surveys are now complete and clearly delineate low-velocity, weathered 'troughs' that host the oxide copper-gold- REE mineralisation within the Alford Copper Belt
Read More »
LEARN MORE ABOUT ISR (In-Situ Recovery)