The directors of Thor Energy PLC (AIM, ASX: THR, OTCQB: THORF) are pleased to announce that the Ambient Noise Tomography ("ANT") Surveys by Fleet Space Technologies are now complete at the Alford East Copper-REE Project in South Australia.
WATCH: Learn more about how Thor Energy (ASX/AIM: THR) is using Ambient Noise Tomography surveys to delineate copper mineralisation at the Alford East Project with this Exploration Update featuring Jason Hodge from Fleet Space Technologies.
▪ The acquisition phase of the low-impact, ANT surveys are now complete at the Alford East copper-gold-REE Project, using EXOSPHERE BY FLEET® technology

▪ Preliminary ANT models clearly delineate low-velocity, weathered 'troughs' that host the oxide copper-gold- REE mineralisation within the Alford Copper Belt

▪ Fleet is currently reviewing the ANT data, integrating the ANT results with Thor's 3D geological model using Artificial Intelligence ("AI") and Machine Learning ("ML") and generating an improved geological model for drill targeting extensions to the troughs that host higher-grade oxide copper-gold mineralisation (ASX/AIM: 4 September 23)
1. Modelling of ANT results, incorporating Thor's 3D model and using AI to extrapolate controlling structures along the Alford Copper Belt (November – December 2023)
2. Target generation from the final 3D Model (November – December 2023)
3. Drill preparations and drilling (Q1 2024)
Thor Mining has an interest in several projects in the copper belt near Alford on the Yorke Peninsula in South Australia and further to the east at Kapunda.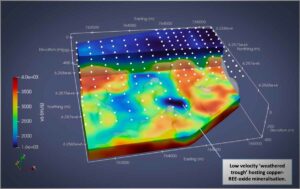 The acquisition phase of the low-impact, ANT surveys are now complete and clearly delineate low-velocity, weathered 'troughs' that host the oxide copper-gold- REE mineralisation within the Alford Copper Belt
Read More »