The directors of Thor Energy Plc ("Thor") (AIM, ASX: THR, OTCQB: THORF) are pleased to announce significant uranium drill intercepts at the Company's 100% owned Wedding Bell and Radium Mountain Projects, located in the historic uranium-vanadium mining district within the Uravan Mineral Belt, southwest Colorado, USA.
• Downhole gamma logging returns up to 3186 ppm (0.32%) eU3O8 uranium at the Rimrock Mine, along strike of historic mined-out areas.
• Significant results above 500ppm (0.05%) eU3O8 (historical cut-off grade in the Uravan Mineral Belt) include:
   • 23WBRA011 0.5m @ 3186ppm (0.319 %) eU3O8 from 76.2m
   • 23WBRA012 0.6m @ 1710ppm (0.171%) eU3O8 from 63.1m
   • 23WBRA013 0.3m @ 1080ppm (0.108%) eU3O8 from 61.3m
   • 23WBRA016 0.8m @ 1954ppm (0.2%) eU3O8 from 67.4m
• 16 drillholes are now complete at Rimrock and Section 23 prospects, with uranium mineralisation intercepted
in all drillholes.
• Drilling continuing at Rimrock before moving to Groundhog prospect, with further downhole gamma results anticipated at the end of the program.
URANIUM-VANADIUM PROJECTS
Thor Energy holds a 100% interest in three uranium-vanadium projects in the highly prospective Uravan Mining Belt on the border of Utah and Colorado. The Wedding Bell Project and the Radium Mountain Project are both in Colorado and comprise of 199 mineral claims over areas of historical high grade uranium and vanadium production. The Vanadium King Project in south-east Utah comprises of 100 mineral claims, approximately 40km north of the town of Moab.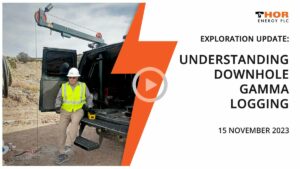 Significant uranium has been intercepted in drilling at Thor's 100% owned Wedding Bell and Radium Mountain Projects
Read More »